efi facilities
Location: Our plant and offices are in the Cocoa Bee-Line Industrial Park; ½ mile north of the Bee-Line Expressway (SR. 528), and ½ mile west of U.S.1. We are also on the Florida East Coast Railroad.
Heavy Industrial Fabrication and Large Machining Capabilities: EFI has the facility, equipment, and manpower to build small to very large machined parts, fabricate light to heavy weldments and to provide precision installation of motors, bearings, shafting and other power transmission equipment. We also build, install, wire and test a wide variety of 3 phase motor control panels, solenoids, limit switches, etc. for the variety of equipment constructed in our shop.
Railroad Spur: We have installed a railroad spur of the Florida East Coast Railroad that dead ends 150 feet inside the plant. EFI has shipped five overhead cranes via rail, each weighing 150,000 pounds with an average length of 112'. Each of these shipments required one main car and two idler cars.
Plant Area: The building is a Republic Steel metal building with a 30' high, 330' long, and 65' wide clear span. There are 5 bridge cranes; 20 ton capacity, 10 ton, 5 ton, 3 ton and 2 ton as well as several 2 ton jib cranes. Additionally, there is a 120' long x 65' wide steel storage area with its bridge crane transporting steel into the plant. Total length of crane runways is 450'.
Inventory: EFI stocks a full compliment of structural, mechanical and electrical components for overhead cranes. Seven day delivery of cranes up to 10 ton x 60' span is readily available.
Fabrication Area: The plant has a number of EFI designed and built specialized pieces of equipment that contribute to highly efficient and accurate construction of bridge cranes and fabrication of large steel weldments. These include EFI's "Charmin" box girder assembly and semi-automated welding machine, EFI's "Scorpion" traveling weld and work station, swing out 3 ton capacity monorail system and traveling type large assembly bed beams.
Burning Department: The oxy-acetylene burning table is 40' long x 9' wide with 6 torches for stripping and one cross travel torch. This machine is capable of cutting cambers in plates (for cambered box girders). We typically flame cut these plates with a 2-mile radius for camber. We have burned plates to build box section girders up to 96" high by 36"wide, up to 132' long, weighing as much as 60,000 pounds.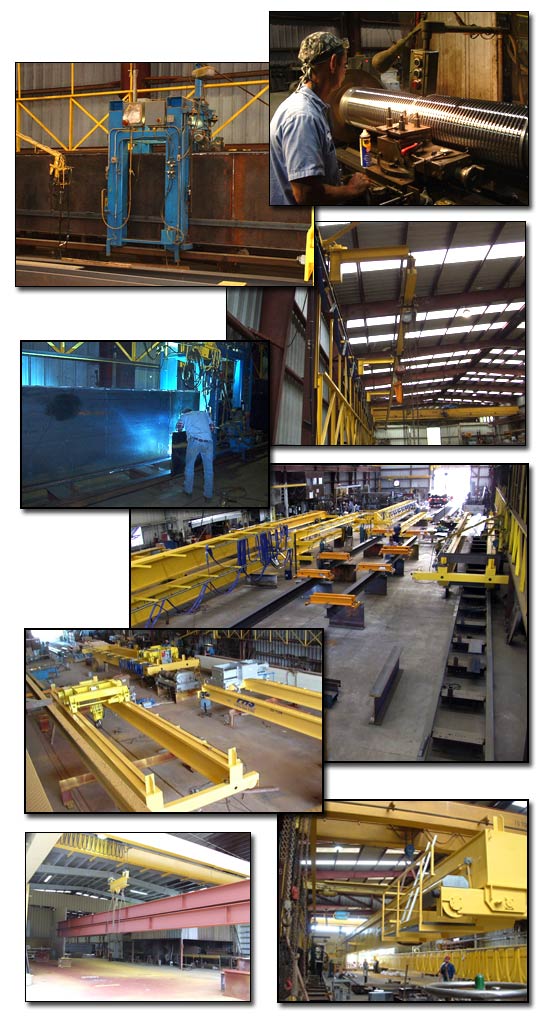 Welding Department: We have 5 wire feed welders for steel and one for aluminum. One gas powered MILLER DC Welder and three stick welders. One of the welders is mounted to the Scorpion traveling workstation and two are mounted to monorails. EFI has performed a considerable amount of welding for NASA, Lockheed, the U.S. Navy, TVA, Boeing, etc.
Fit-Up and Assembly: EFI has built many different types of equipment over the last 42 years. These include: overhead traveling electric bridge cranes from ½ ton to 40 ton; cab, floor or radio controlled up to 130' span, ground support equipment for NASA and most major aerospace and airline companies. Some of the more notable items include engine stands for the RB211 Rolls Royce engine, thrust reverser stands and other specialty items: 600 ton capacity box girders, special equipment for aluminum smelting plants including 80,000 pound capacity conveyors, 100,000 pound capacity transfer cars, special imprinting equipment, ground support equipment for the Kennedy Space Center including an 18,000 pound device used to rotate the Space Shuttle satellite payload canister from horizontal to vertical and special heavy duty load beams.
Electrical Department: Three phase panels are designed and built on site including reversing starters, variable frequency controls, wound rotor primary and secondary controls, eddy current brakes, limit switches and safety devices for machines having several motors. We prepare our own electrical engineering and schematic drawings. We have in-house UL certification of our control panels available.
Prep and Painting: EFI has a large Wheel-a-Brator for cleaning beams up to 38" deep as well as small steel parts. This provides for excellent paint application on our cranes and runway systems.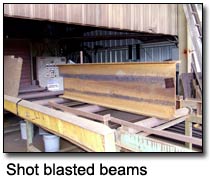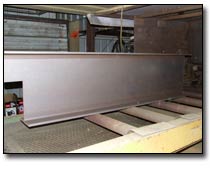 EFI has several airless and conventional spray systems for applying a wide variety of coating systems. We can provide high-performance epoxy and urethane outdoor coating systems as well as shop coat primers and alkyd enamel coatings.